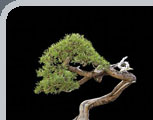 Uvod
Václav Novák se narodil v roce 1952. Vystudoval strojní průmyslovou školu obor lodní doprava. Pracoval jako strojník na lodích na Labi, ve sklárně a znovu na lodi. V roce 1990 založil Bonsai centrum v Libochovicích. Nejprve se svým společníkem , Karlem Kaloušem zakládali zahrady, provozovali okrasnou školku a samozřejmě pěstovali bonsaje. Od roku 1999 se věnuje pouze bonsajím. Pořádá semináře a demo v Čechách i v zahraničí, v Anglii, Francii, Belgii, Itálii, Německu, Polsku,Holandsku, Maďarsku, Lichtenštejnsku, Litvě, na Slovensku, v Mexiku, v Jižní Africe a Brazílii.
Zájem o bonsaje u V. Nováka vzbudila přednáška pana Hidea Kata z Japonska, který v roce 1982 navštívil Prahu. Nejprve se jednalo o hobby, které se později stalo jeho povoláním. V roce 1990 spolu- zakládá Bonsai klub Libochovice. V roce 1997 vznikla také z jeho iniciativy Česká bonsajová asociace (ČBA) a na ustavujícím sjezdu byl zvolen jejím prezidentem . V roce 1998 byla ČBA přijata do Evropské bonsajové asociace (EBA) jako první země z bývalé východní Evropy a v roce 2003 byla ČBA pověřena uspořádáním 19. EBA-ESA kongresu v Jihlavě. Od roku 2004 je členem výboru EBA. Jeho bonsaje můžete vidět na významných výstavách v Evropě a také v Katalogu 4. Světové výstavy z roku 2001 v Mnichově, v publikacích The best of Bonsai in Europe 1, 2, 3, a 4, Premio Olea 2, Bonsai a Suiseki a mnoha evropských bonsajových časopisech
Václav Novák was born on the 27th January 1952. He completed his studies at the technical college (subject of study-water transport). After finishing school he worked as machine operator on boat on Labe river. Then he worked in the glass factory in Libochovice and later on the boat again. In 1990 he established Bonsai centrum in his native town Libochovice. He and his partner Karel Kalouš were setting up gardens, carrying on nursery and, of course, growing bonsai. Since 1999 he devoted himself only to bonsai growing. He organizes seminaries, demos and exhibits his bonsai trees in Czech republic and abroad (for ex.: in England, France, Belgium, Italy, Germany, Spain, Poland, Slowakia, Mexico, South Afric, Brazil etc.).
His interest in bonsai growing arosed after the lecture of Mr. Hideo Kato (Japan) which was held in Prague in 1982. At first bonsai growing was only his hobby but later it became also his job. He is also co-founder of Bonsai Club Libochovice. It was founded in 1990. The Czech Bonsai Association was founded in 1997on his initiative. He was elected its president on the establishing convention of CBA. CBA was accepted 1998(as the first member from former eastern European countries) into EBA. CBA was charged with the arranging of the 19. EBA-ESA congress in 2003. This congress was held in Jihlava. In May 2004 in of 20th EBA Congress in San Marino was elected as EBA board member as technical adviser.
You can see bonsai trees of Václav Novák in the cataloque of the 4th World Bonsai Exhibition 2001 from Munchen and also in the cataloque Ginkgo Awards n. 1, 2, 3, 4, and 5, cataloque Premio Olea 2005 and diferend Bonsai Magazine in the whole world.
/sup> /sup> /sup>